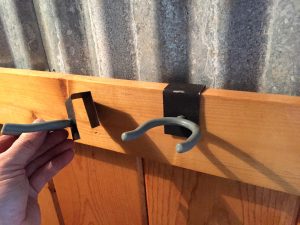 My "detecting closet" has become so full that getting a machine in or out is a real pain. Lately, I've found myself leaning detectors against the laundry room wall when I come in from detecting and now it's getting cluttered too. The breaking point, though, was when I added an AT Pro to my collection. I put a NEL Snake coil on it and found it will not stand up. It wants to slide down the wall on the tile floor. Last week during a de-clutter I decided I needed some non-permanent hangers.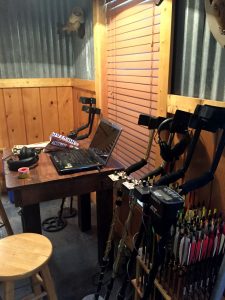 Of course these will not help most of you unless you happen to have trim like my laundry room but it's been raining for 4 days and I have nothing else to talk about.
The wainscoting in our laundry/mud room is way too tall for the space but it's the perfect height to hang a metal detector. I didn't want to screw hooks into it and I wanted moveable hangers. My solution was some .94 cent hooks from HD and some scrap metal. I took an old stereo amplifier apart and cut strips of metal out of it's cover on a bandsaw. I cut the cover so that I could already have one bend from the side then continued the bend over a 1×4. To attach the hooks I drilled a pilot hole, screwed the hook into the bracket, spot welded the back then cut off the hooks threads. I little filing to smooth things up and you have a nice moveable hanger…if you have 1×4 trim with an exposed edge, that is.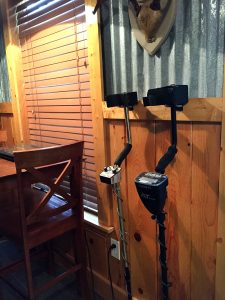 Share this on: