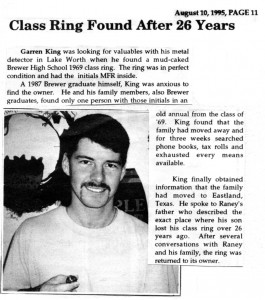 While metal detecting in a nearby lake with the Tesoro Stingray I dug my first class ring. It was in waist deep water and down in the clay. The clay did not wipe off easily so I couldn't see the year at first. As I rubbed and rinsed I could see that the ring appeared like new. I figured it was a recent drop but as I got to the date…wow…1969! After I got it home and completely cleaned I could see some initials inside. At that point I knew I had to try and find the owner. Luckily this was from my own high school. Even better was that my parents, aunts and uncles also went there. My mom's sister still had her high school annual and it was the year that would have made the rings owner a junior. This ring was large. Only one person had those initials in the yearbook and he was a big guy.
Now that I had a name I spent about a month trying to locate him. The first break came with a phone number. He had apparently moved about an hour from here. I wasn't to confident with the phone number but towards the end of the conversation I knew I had come to the end of my search. When I dialed the number an elderly man answered and the conversation went like this:
Me: "Is this Marshall?"
Elderly Man: "No. That's my son. What do you want with him?"
Me: "Well, I may have found something that belongs to him"
Elderly Man: "what is it?"
Me: "His class ring"
Elderly Man: "No, that's not possible. He lost his class ring in Lake Worth when he was in high school."
Bingo! The lake he mentioned is the lake where I found the ring. The man took down my phone number and explained his son was a truck driver and he would have him call when he came in off the road. But the story took another turn. About a week later I get a call from a woman asking if I metal detect and if I was looking for someone who lost a class ring. When I said yes she was super excited. Apparently her grandfather, in his elderly state, had copied my number down wrong and she had been trying different combinations of it for three days trying to get a hold of me! She sent a message through a dispatcher to her father on the road to let him know about his ring. You can read his actual thank you letter below. Its a "keeper"!

Share this on: