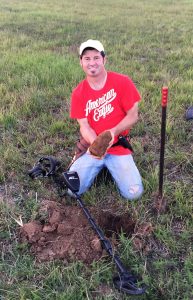 Although the date is correct on this post for the hunt, I'm actually typing this in November. I wanted to wait and post after the James shell was restored. This ended up taking 26 days.  26 loooong days of electrolysis and tedious hand work. I put together a small gallery of images at the end of this post that shows some of the steps to restore the shell.
I had the chance to travel to an area that saw a Civil War artillery battle which took place in the Spring of 1864. I had gained permission to hunt some hay fields through old fashioned handwritten letters. This place had been pounded in the past so, at best, I was only hoping for a couple of bullets.
We had two days to hunt. The first day fulfilled my hopes for a bullet. In short order I found 5 dropped Sharps. One was a ringtail. Also got a nice shell fragment. The second day we were given permission to hunt a field that no one was allowed to hunt in the past. We knew, however, people had been sneaking onto it and we didn't expect it to be virgin soil. We were still excited though. We were the first to hunt it on the up and up. All I found was two Union axes and a Confederate artillery hammer plus another shell fragment. This doesn't sound too bad right? Except in the field I wasn't able to readily identify these relics as being Civil War related. With only 2 hours of daylight left and feeling like I had found nothing significant, we decided to try a field that no one in the past had ever wanted to hunt.

By the time we made it to this next field I was worn out. I got out of the truck and made one pass across the field with practically no signals. Made the U-turn at the fence line and started back in the direction of the truck. Midway across I got a nice iron tone on the AT Pro. The VDI numbers were right for a shell but I had already dug tractor parts on this trip and never even considered this target to be anything different. However, after 12″ of digging I started getting suspicious. When my hunting partner saw me pulling dirt out of a deep hole by hand he came over to inspect. When we could finally see rust at the bottom of the hole I was at 17″. Later confirmed with a tape measure.  I finally got enough dirt out of the way to see what I believed to be another tractor part or junk farm iron. Tired of digging, I wedged my digger under one edge and pried up. The base of the shell came up first. In a split second I thought I had a large fragment and snatched it out of the hole not realizing it was intact and very heavy. It slipped out of my fingers and landed on its side atop my dirt pile. What a rush to see an intact artillery shell and I instantly knew it was a James.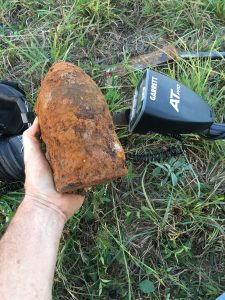 Other hunters in the past had told my friend that they didn't think there was anything in this field and they pretty much stayed out of it…well….what do you think now?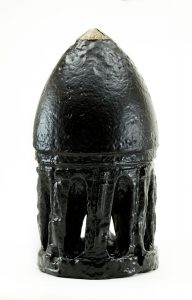 After digging the James shell I was almost too excited to continue hunting. I managed to regain my composure just long enough to go back out in the field and dig a canister shot from a 12# field Howitzer. (pictured above with other relics). Below is a gallery of images chronicling the shell restoration.
Share this on: