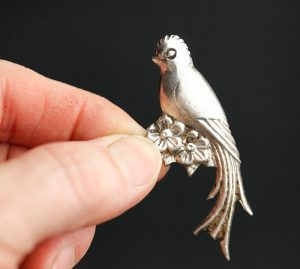 We did some creek digging today in one of our favorite spots. The bank of the creek is old ash from the town incinerators. Over the years rain and erosion have washed it into the creek and classified it for us. The creek bed is a giant sluice box. The dump was closed in 1962 so all quarters, dimes and halves are silver. Most of the pennies are wheats but since the operations ceased in 62 that left room for some memorials. The majority of stuff that comes out of the creek is burned but occasionally you'll find some jewelry, coins or tokens that made it through the grates undamaged. That was the case with the silver bird lapel pin. I'm surprised something this big made it through the incinerator without melting.
If you keep a sharp eye you can find the jewelry and coins that didn't survive. They will be little droplets of melted gold or silver. You can see examples of that in the lower right corner of the bottom image.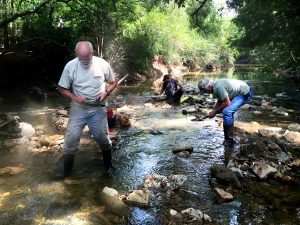 Lots of pins and medallions come out of the creek. I got the two US pins and a girl scout pin today.
Most of the coins are toasty but the silver Washington was in good shape.
The large half of a ring in the pic is junk but the small baby ring is silver…melted and toasty of course.
Then there is the modern stuff that washes in off of the street. Got the Texas drivers license, debit card, cell phone and a clad quarter on this trip.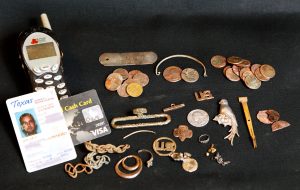 Share this on: